What is unique about the Water Diplomacy Workshop?
Participants learn how to train others.  The Workshop's instructors are problem-solving practitioners with many decades of teaching, research, training, and field-based experience. We will show you how to present what you learn at the Workshop to groups, communities, and organizations back home. Spreading this actionable knowledge and helping as many people as possible, rather than reserving what we know only for those who can come to a one week workshop, is essential to addressing the world's water problems.
Participants become part of a global network. We aim to link reflective water professionals around the world. Attendees can use our private online forum to help each other implement what they've learned about water diplomacy.
Our focus is on managing the science, policy, and politics of water networks through negotiations. Addressing water conflicts means managing complex networks. Focusing on just infrastructure investment, or just science or just public perceptions won't work. Water networks are open-ended, and constantly changing. If water disputes are not properly framed, and don't take account of the natural, societal, and political dynamics involved, it will be impossible to generate solutions that are implementable and enforceable. To that end, the Workshop emphasizes negotiation as a critical diplomatic skill.
We are building on an extensive research record and real world experience. We teach a purposefully organized problem-solving approach backed by decades of theory-building and research in water science and negotiation. Professor Lawrence Susskind is one of the co-founders of the Program on Negotiation at Harvard Law School, arguably the foremost center for the study of negotiation theory and practice in the world. Professor Shafik Islam is the director the Water Diplomacy Program at Tufts University. No other professional training program in water diplomacy builds on this level of research in both negotiation and water science.
Using the Water Diplomacy Framework to Characterize and Address Water Problems
The Water Diplomacy Framework (WDF) addresses water problems differently from a conventional conflict resolution approach typically used in resource management. This Framework acknowledges how water problems cross multiple domain and scale boundaries and that approaches that include examining how blue and green water, technology sharing, and re-use opportunities can create more flexible arrangements when there are competing demands for water. The Water Diplomacy Workshop uses this Framework to teach participants how to characterize water problems and how to design and use tools for solving and managing water problems.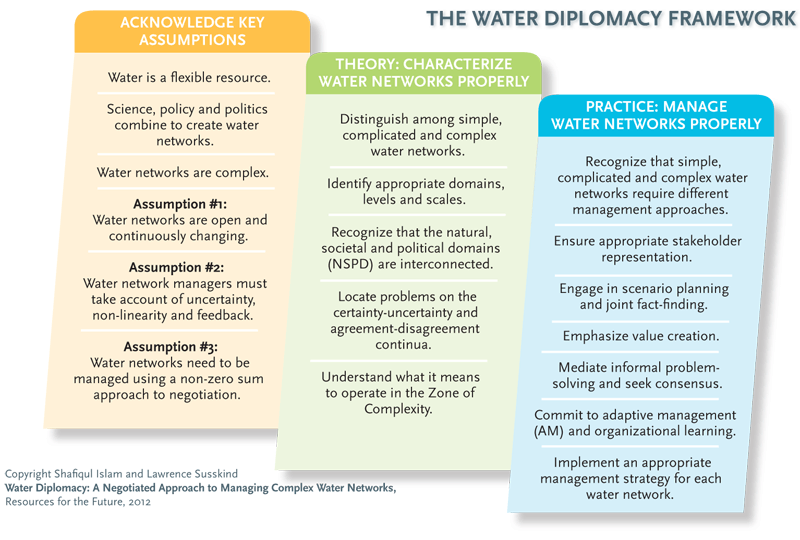 Selected Topics from the Water Diplomacy Workshop
Characterizing Water Problems
Characterizing and Managing Water as a Flexible Resource
Challenging the Conventional Water Management Paradigm
Key Principles of International Water Law
Preparing a Stakeholder Assessment
Collaborative Adaptive Management
Designing and Implementing Joint Fact Finding
Creating Value in Water Negotiations
Mediating Water Disputes
Teaching Water Diplomacy
Who Teaches the Course?
Shafiqul Islam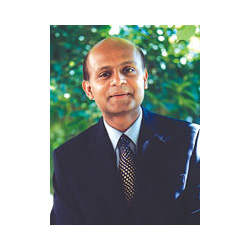 Shafiqul (@ShafikIslam) Islam is Professor of Engineering and Professor of Water Diplomacy at the Fletcher School of Law and Diplomacy at Tufts University. He is the Director of the Water Diplomacy Program. Dr. Islam's interdisciplinary research and educational interests are to understand, characterize, measure, and model water issues ranging from climate to cholera to water diplomacy with a focus on scale issues and remote sensing. His research group, WE REASoN, integrates theory and practice to create actionable knowledge.
He maintains a diverse network of national and international partnerships including MIT, Columbia University, Purdue University, Penn State University, Princeton, BUET in Bangladesh, University of Tokyo, ETH in Switzerland, ICDDRB in Bangladesh, IIT in India, and SaciWATERs to conduct multi-year and multi-million dollar interdisciplinary collaborative research for a wide range of problems focusing on scarcity and abundance of water. His major research sponsors include the National Science Foundation , National Institute of Health, and the National Aeronautics and Space Administration.
Dr. Islam maintains an active national and international consulting and training practice ranging from flood forecasting in India to national water planning in Bangladesh, to water policy planning for ExxonMobil, and to advising South Asian Consortium of Interdisciplinary Water Resources studies. He acted as consultant to the World Bank, United States Geological Survey, Proctor and Gamble, and several other governmental and nongovernmental organizations. He has published more than 100 refereed journal and other publications. His book with Larry Susskind  Water Diplomacy: A Negotiated Approach to Managing Complex Water Networks was recently published by Resources for the Future. His research findings have been featured in numerous media outlets including the BBC World Service, Voice of America, Boston Globe, Huffington Post, Nature, and Yale E360. To learn more about Dr. Islam's academic interests and research, please visit WE REASoN and Water Diplomacy.
Lawrence Susskind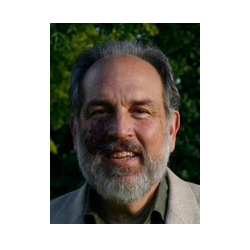 Lawrence (Larry) E. Susskind is a teacher, trainer, mediator, and urban planner. He is one of the founders of the field of public dispute mediation. He has mediated a great many complex disputes in the United States and in other parts of the world. Since the early 1970s, he has helped to train thousands of negotiators and mediators in the public and private sectors and to promote the use of mediation to resolve resource management, regulatory, treaty-making, infrastructure development, and environmental protection disputes. Susskind's ideas about the techniques and strategies of consensus building have helped to define best practice.In 1993, he founded the Consensus Building Institute (CBI), a Cambridge-based not-for-profit that is now a leading mediation service provider throughout the world. Through CBI, he has advised the Supreme Courts of Israel, Ireland, and the Philippines; helped to found the International Programme on the Management of Sustainability offered every year in the Netherlands, helped to facilitate a variety of international treaty-making efforts; developed the techniques of conflict assessment and joint fact-finding; and created new strategies for building organizational negotiating capabilities. He has been part of the interuniversity Program on Negotiation at Harvard Law School (HLS) since 1982 and taught at the Massachusetts Institute of Technology (MIT) since 1971.
Michele Ferenz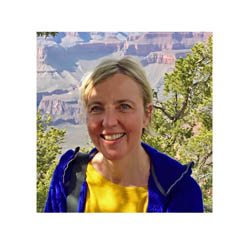 Michele is a Senior Mediator with the Consensus Building Institute with more than 20 years of experience as a facilitator, mediator and trainer helping resolve conflict and build consensus. Her primary practice areas are in natural resource management and international development, with a focus on fragile states and post-conflict societies. Previous to her current work with CBI, Michele was the founding director of the Food, Water and Energy Nexus program at the East West Institute, working with senior political and business leaders to address complex nexus tensions in Central Asia and the Middle East.
From 2007 to 2012, Michele worked at UNICEF covering post-crisis and transition countries in Sub-Saharan Africa and the Middle East as well as environmental sustainability. In early 2012, as Acting Country Director in Libya, she managed all programmatic and operational aspects of establishing a new UNICEF country presence in Tripoli. Michele's previous work at CBI spanned a decade from 1997 to 2007. In that period, she oversaw CBI's Middle Eastern portfolio and worked on global multi-stakeholder consultations on environment and development issues.
Michele has taught international environmental policy and negotiation theory & practice at Columbia University, the University of Massachusetts, and the Pratt Institute of Design. She started her career in the Rome bureaus of CBS News and The New York Times.
She holds degrees from Brown University and Harvard's John F. Kennedy School of Government. A native of Switzerland, she speaks fluent German, Italian, French and English.
What is it like to participate in the Workshop?
The Water Diplomacy Program is a refreshing and inspiring course that has inspired me to tackle water resource challenges in a positive light. The framework is a tool that is also an opportunity to look for inventive approaches to problem solving and identifying lasting solutions to pressing problems.
-Tina Cydzik, Senior Engineer, US
"The Water Diplomacy Workshop is a unique opportunity not only to learn about issues with water resources complexity, but shows a way to reach possible solutions through understanding stakeholders views and negotiated outcomes."
– Muhammad Asif Khan, Professor and Director, National Center of Excellence in Geology, University of Peshawar, Pakistan
"The Water Diplomacy workshop exposed me to some new concepts and approaches in analyzing future events and issues which I am still digesting.  It  also highlighted relevant knowledge and brought out rich ideas that provide possibilities for addressing areas of potential conflicts in the management of transboundary water resources. I see it as a ready and useful tool for policy makers and practitioners in the field of trans boundary water resources to address conflicting interests. It was a very enriching experience."
–His Excellency Major General Collins IHEKIRE (Rtd), Executive Secretary, Niger Basin Authority, Niger
"Finally! A practical, creative, problem-solving approach to address water conflicts."
-Virginia Tice, Attorney, Nature Iraq
Additional Details: Workshop applications are accepted on a rolling basis. Review begins in mid-January. It may take 2-4 weeks to receive a response to your application. If you have difficulty with the application form, please contact us. Each year, we have been able to provide a limited number of scholarships to a few participants to help defer workshop participation costs. Applicants seeking scholarships should also seek organizational support or other sponsorship. Additionally, we are committed to providing an excellent workshop experience and keeping participant costs as reasonable as possible. We can provide additional information and advice to individual accepted applicants on these topics prior to payment.